West Ridge, Conway, South Carolina, U.S., 29526
There are two other West Ridge web sites:


The West Ridge HOA Board's web site at West-Ridge.ORG (= westridgehomeowners.communitysite.com) (login optional), and
Waccamaw Management's web site for West Ridge at www.TownSq.io (login required, app for mobile phones available).

Anything with sensitive personal or financial information is over there, if at all. This site, West-Ridge.INFO, is not owned or run by the Board, and they are not responsible for the content herein.
Announcements:
The pool is closed for the season.
Calendar:
Fri Dec 1: Hurricane season officially ended
Thu Dec 7: Pearl Harbor Remembrance Day
Thu Dec 7: Chanukah begins at sundown
Fri Dec 15: Chanukah ends
Thu Dec 21: Winter Solstice at 10:27 PM EST
Lawn irrigation status:
OFF <! If you have some other problem, report it to Waccamaw Management.>
---
Welcome to West Ridge!

(Photo by Kathy Lilly)
Convenient location:
West Ridge is located between Highways 501 and 544, between Burning Ridge Road and Singleton Ridge Road, and between Conway Medical Center (hospital and more) and Burning Ridge Golf Course. Also relatively nearby are Coastal Carolina University (CCU), Horry Georgetown Technical College (HGTC), Wal-Mart, Aldi, Food Lion, Wild Wing, and many fast food restaurants. For a Google Maps view of the area, see the link on the left.
A brief history:
The 130 homes here were built from 2007 to 2012. Portrait Homes built the first 40 homes and paved all the roads before going out of business nationwide. Eventually, D. R. Horton came in, repaired and cleaned up the common areas, and built the remaining 90 homes.
In January of 2013, with development complete, D. R. Horton turned over the West Ridge Homeowners Association to the home owners, along with over $18,000 in debt run up because they'd held the HOA dues low in order to sell new houses more quickly. I've been told that the law requiring developers to pay off such debts only applies to the original developer, and thus not to D. R. Horton who purchased the property out of bankruptcy. Fortunately, our HOA's first Board, with much good work from Doug Millar of Litus To Let, was able to eliminate the debt and leave a surplus in the HOA's accounts. His discovery that our contract with HTC gives the HOA a cut of what our homeowners pay HTC each year, resulting in over $9,000 extra income that year, was a big help.
(Click for full-size image)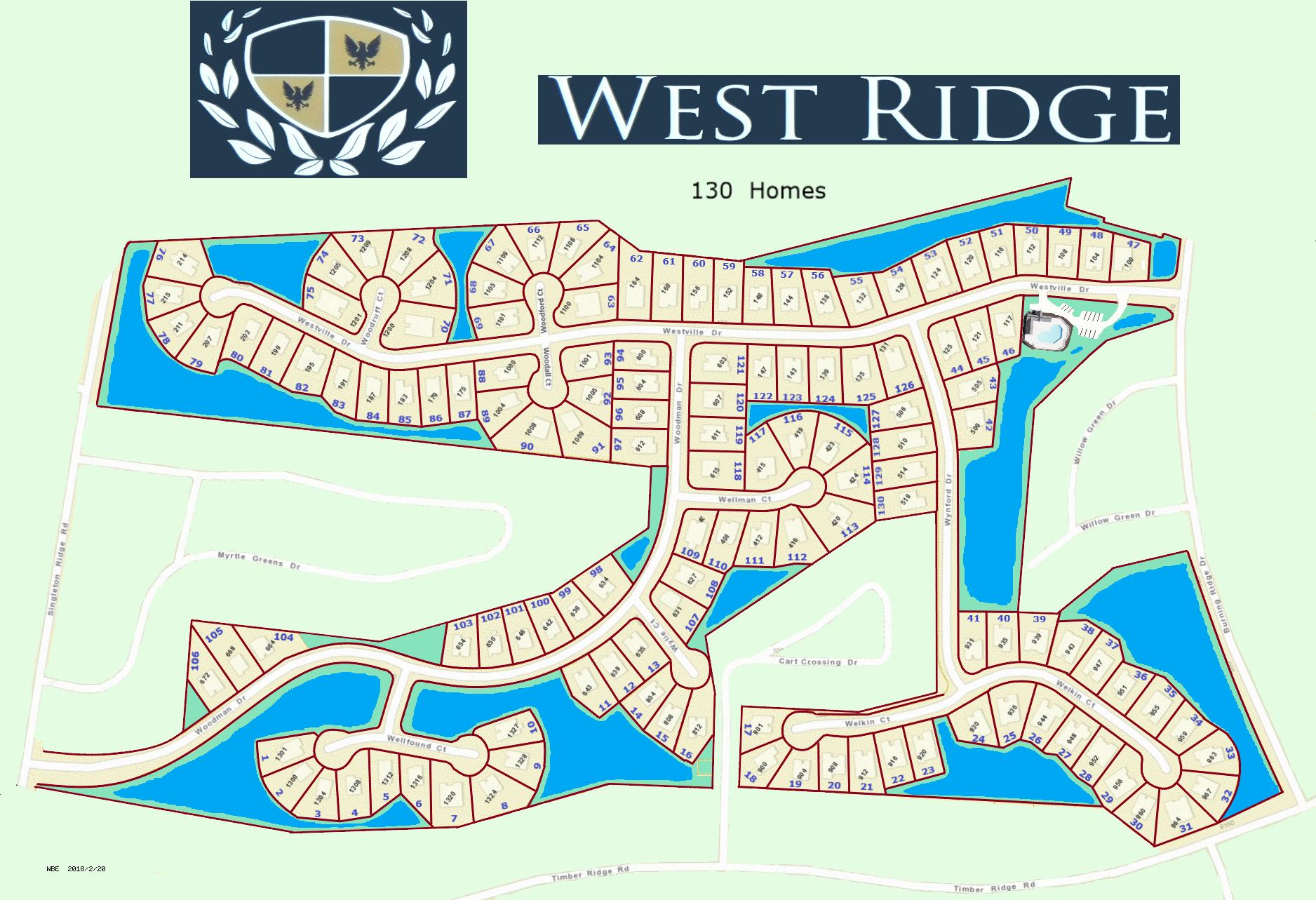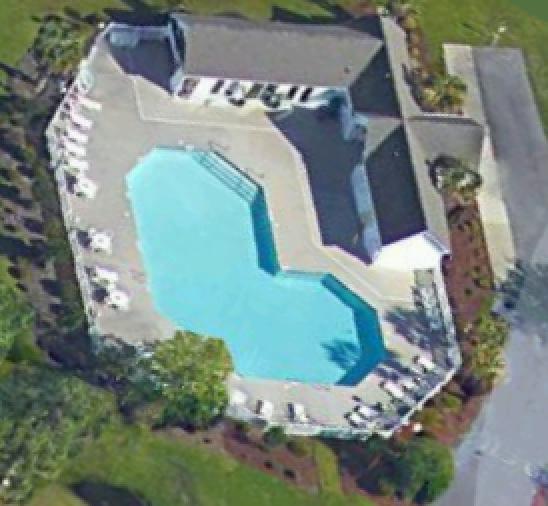 Pool room
Closed
for the
season
There's a nice outdoor pool and a pool room. The L-shaped pool sections are roughly 60 feet ( | ) and 50 feet ( — ) long. The pool is usually open April through at least September.
The pool room is used for Community Meetings, Board meetings, and private get-togethers, as well as just a place to be and chat with friends on a summer day.
---
West Ridge today
West Ridge is a covenant restricted community, with a Homeowners Association (HOA), Covenants and Bylaws (only changeable with lawyers and Court proceedings) and by both Rules and Regulations and Architectural Standards (documents issued by the HOA Board that don't require Court approval to change). [Follow the Public Documents link on the left for all these and more.] Outside-visible alterations to one's house, lot, or driveway are generally subject to review and approval by the Architecture Review Committee (on which non-Board members may serve). [For a description of Board committees, click "Committees" over at West-Ridge.Org.]
Our HOA Board consists of six members. Each year (originally January, but February the last few years), three are up for election to serve a two year term. Right after the election, the Board members themselves decide who will serve as President, Vice President, Secretary, and Treasurer. The other Board members serve "at-large". Board members do a good bit of work, get a good bit of grief, and receive no pay. Not everyone has been able to serve their full term, and various methods have been used to fill vacant Board seats.
A property management company handles many of the routine tasks, including paying the HOA's bills, collecting monthly dues and late fees, and advising the Board. Since 01/2017, that company has been Waccamaw Management.
Unlike neighboring communities such as Myrtle Trace and Lakeview, West Ridge is not age 55+ restricted.
Most of the homes are owner-occupied, but some are rented out. With CCU close by, students are often the renters. The Rules and Regulations contain noise and parking provisions that have been used when needed.
Currently, our roads are privately owned (by us), so we may establish and enforce whatever street parking regulations we wish, and install or remove any STOP signs, speed bumps, entrance gates, etc. we choose. However, road maintenance is also up to us.
Recycling: According to the Board at our 2022 Annual meeting, our curbside trash pick-up is NOT sorted for recyclables. To recycle, you'll need to take it to a recycling center. There's one on Jackson Bluff Road, off 544, just past the Grand Strand Water and Sewer building.
Low flood risk: In 2015, when two feet of rain fell causing what was called at the time a "1000-year flood", and in storms Matthew (2016) and Florence (2018) (which caused a "1000 year flood" in other parts of Conway), the water did not rise high enough here to damage or flood any house. The retention ponds rose over their banks, the roads and the lower parts of the lawns and the driveways were under water, but the houses were fine. We are beyond hurricane evacuation Zone 5, and our National Flood Insurance category is Zone X (not a flood zone).
---
West-ridge.info: since 2018:
*: indicates a page with content from another web site